About the Tri-State Transit Authority
TTA is the Tri-State Transit Authority, which provides bus service in the Huntington, West Virginia and Ironton, Ohio urban area. Ashland, Kentucky, which is served by the Ashland Bus System (ABS), has limited TTA service to and from Ironton, Ohio.
The TTA telephone number for information about bus service in West Virginia is (304) 529-RIDE and in Ohio it is (304) 894-RIDE. The telephone number for TTA "Dial-A-Ride" (paratransit) service for the disabled in West Virginia is (304) 529-7700. The telephone number for TTA-Ohio paratransit service is (740) 894–RIDZ.
In West Virginia, TTA provides bus and paratransit service Monday through Saturday from 5:45 a.m. to 11:30 p.m. in the greater Huntington urban area. TTA buses travel from Huntington to Culloden with service in between to Barboursville and Milton. TTA-Ohio bus service is sponsored by the Lawrence County Port Authority and operates Monday through Friday from 6:20 a.m. to 7:30 p.m. TTA transit service is not available on major national holidays.
TTA-Ohio will makes four bus trips a day to Ashland, Kentucky. Stops are limited to Bellefonte Hospital, Ashland Wal Mart, Ashland Mall, King's Daughters Medical Center, the Ashland Depot and a stop at the corner of 2nd Street and Park Street.
The basic TTA bus fare is $1.00. There are two fare zones. If you travel into or out of the Huntington city limits, there is an additional charge of 25¢. There is also an additional charge of 25¢ between Milton and Culloden. In Ohio, there is an additional charge of 25¢ for service beyond Solida Road to (and from) Ironton or Huntington.
Customers with a Medicare card ride for one-half the basic fare. "Dial-A-Ride" customers ride for double the basic bus fare. You are welcome to call the TTA dispatcher for the exact fare for your trip with TTA or TTA-Ohio.
A fully accessible downtown customer service center in Huntington adds to the convenience of travel on the TTA bus system. TTA Center is in the beautifully restored Greyhound bus terminal located at the corner of 4th Avenue and 13th Street. The staff at TTA Center can help you with route and schedule information. Customers can also purchase discounted bus passes at TTA Center.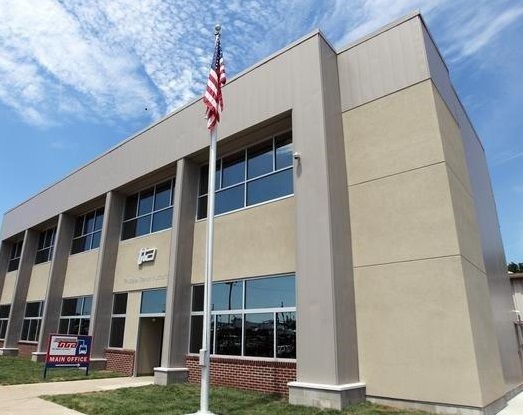 TTA buses and "Dial-A-Ride" vans are equipped with automatic electronic fare boxes. Passes can also be purchased from the fare box. The electronic fare boxes do not make cash change. They dispense a change card good only for rides on the TTA transit system. It is best if you have the exact change for your bus fare if you are not riding with a pass. Necessary change is available at TTA Center.
If you live in the area or plan to visit or move here, we welcome your calls. TTA can also be reached by email. Our address is tta@www.tta-wv.com. Please leave us a mailing address with your email as a reply to your questions may be aided by additional hard copy information.
TTA welcomes the opportunity to serve you with safe, affordable, convenient and reliable mass transit services.