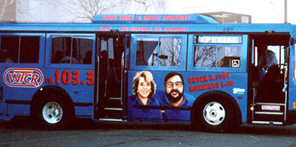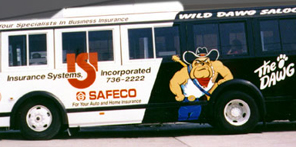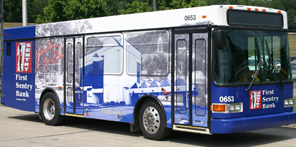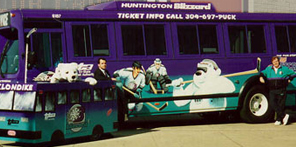 The Tri-State Transit Authority (TTA) is offering the chance for you to "Adopt-A-Bus." The bus becomes an advertisement for your business. The bus will be wrapped to your specifications. You can print, graph and picture your company's logo, address, product, etc., on a moving TTA billboard bus. Now, not only can you RIDE the TTA, you can also READ the TTA.
Think of the advantages! Ads in the newspaper are rarely seen more than once and then discarded.
Imagine how many streets are covered on a daily basis by a TTA bus. Imagine the pedestrians and motorists who see the bus. Then imagine your company's advertisement proudly displayed as the bus moves through town, stops at traffic lights, stops to pick up customers, pulls into shopping centers and many other popular locations from West Huntington to Milton and from the River to the hills.
Put Your Message On the Move
With the use of fully vinyl wrapped buses, today's transit advertising grabs the consumers' attention like no other.
Transit advertising reaches more people per dollar invested than any other medium.
It builds product/service awareness within days.
It's high visibility and constant market penetration, or carefully targeted market segmentation.
For more information Call 638-9608


High Impact Advertising
No other medium delivers your message more effectively. Transit ads work for you. Six days a week – harder than radio, television or newspaper ads and at a fraction of the cost.
Transit carries your message where it counts; close to the point of purchase – downtown shopping districts, suburban malls and shopping centers.
Bus routes coincide with high population densities, ensuring that your ads get noticed.
For high visibility, constant repetition and cost effectiveness – for advertising that means business – transit ads deliver.
Area Coverage
The Tri-State Transit Authority will place your transit advertising on any bus route you wish target.
Contracts are usually for a period of one year and usually the monthly cost is about the same as a full page newspaper ad.
However, transit advertising is several times more effective. The cost is usually lower than two similar size billboards and gives much more exposure.