TTA provides bus and paratransit service Monday through Saturday in the West Virginia service area and Monday through Friday in the Ohio – Kentucky service area. Most of the daytime schedules operate between 6:15 a.m. and 6:15 p.m.
Night service is operated in the West Virginia service area from 6:15 p.m. to 11:15 p.m. on modified routes designed to serve most of the locations served by the day routes. There is no service in Ohio after 7:30 p.m.
There are three zones in the West Virginia service area. Zone 1 is the City of Huntington. Zone 2 is east of the K-Mart Plaza on U.S. Route 60. Zone 3 is service between Milton and Culloden.
There are two zones in the Ohio service area. The dividing line between the two zones is Solida Road.
All TTA Riders can also purchase $5 and $10 "Value Cards" which can be used like a debit card in TTA's electronic fareboxes. TTA buses and Dial a Ride vans are equipped with automatic electronic fare boxes.
Passes and Value Cards can also be purchased from the electronic fare boxes. The electronic fare boxes do not make cash change. They dispense a change card good only for rides on the TTA transit system.
It is best if you have the exact change for your bus fare if you are not riding with a pass. Necessary change is available at TTA Center.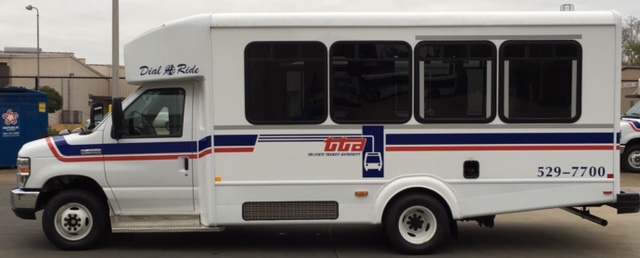 Bus Fares
$1.00 – Adults, Children 7 years of age and older
$0.50 – Seniors and Disabled with Medicare Cards
$0.25 – Zone Fare
$35.00 – 31-Day Pass, Unlimited Rides
$4.00 – Day Pass, Unlimited Rides

Dial-A-Ride Fares
$2.00 – Basic Fare
$0.50 – Zone Fare